Though it has always been high on my "bucket list", I never thought I would actually get a mountain lion. Its not that I don't live in the right place or that there aren't many around. I just know how hard they can be to catch. I've been on many lion hunts where, for whatever reason (and there are
many reasons
) the dogs don' t get the cat.
This day was my lucky day.
It was the day after Christmas, we has a fresh skiff of snow and I was running the back roads checking my bobcat traps. I cut the track crossing the road. I knew what it was and gave my friend who has lion dogs a call. He was also out looking for lion tracks, but said he would meet me in an hour. Next I called hubby and told him I would be a little late getting home.
An hour later we had the dogs lined out on the track. They had some trouble moving the track when the lion got on the "sunny side" of the canyon and the scent had left, but about two hours later, they jumped him!
He didn't run to awful far before treeing in a cedar. After we made sure he was a he, a difficult task to do when kitty is 50' up a tree
, I took the shot. The cat bailed out of the tree, ran to the canyon rim where he made his last stand before falling 30' over the edge into the brush. (Of course he couldn't die next to the tree where we could get a pickup, he had to run back to the canyon.)
I was one super, super happy hunter.
Treed!!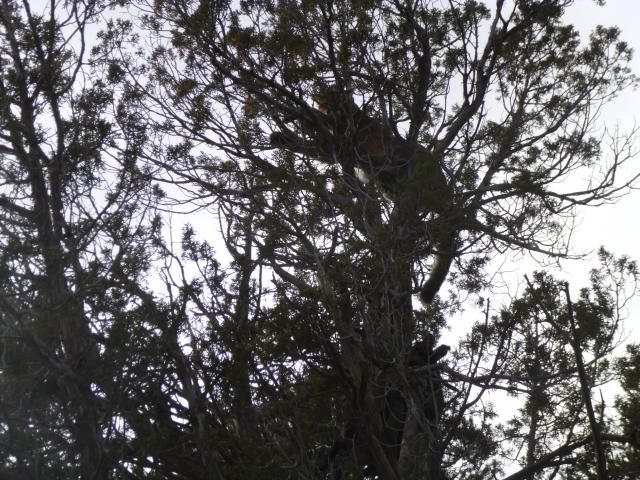 My many thanks go out to an understanding hubby, friends with good dogs, and the landowners we chased this cat across.
CPAW guessed his age to be 3-4 years old. Not the biggest lion in the woods, but a mature cat.
As a side note, we smoked a couple of roasts- and they were delicious!
---
Site Admin

Posts: 9997
Joined: Thu Oct 10, 2002 9:34 pm
Location: St. George, UT
Contact:
To cool, man I'm not a cat expert but that boy looks plenty big and mature to me. Big old head on him, looks AWESOME.
Congrats and thanks for sharing the cool pictures, do you mind if I share a pic or two on our Instagram account?
---
Go ahead- Instagram away!
---