4 point

Posts: 739
Joined: Wed Feb 21, 2007 3:23 pm
Location: South Slopes of Utah
After months of hiking in some of the most
ruggest
country ive ever been in I finally filled my tag.
I was almost given up hope.. Day after day we would turn dogs loose and come back bear-less...
It has been snowing up here the last couple days, a friend found a huge fresh track up the canyon yesterday morning and told us we better check it out before it gets old. We loaded up and headed up about 9:30. We turned dogs loose at 10 and the chase was on. We hiked in 3 miles winding our way straight up hill, through rock slides, thick down timber with about a foot of snow.
It was snowing the majority of the time, the hounds had a hard time picking up scent with all the snow but finally caught up to the boar.
We had him treed at noon and then the work began. It took us 3 hours to pack him out.. I can bearly move today im so sore...
What a awesome experience! Im thrilled with my bear and cant thank Gary enough for helping me.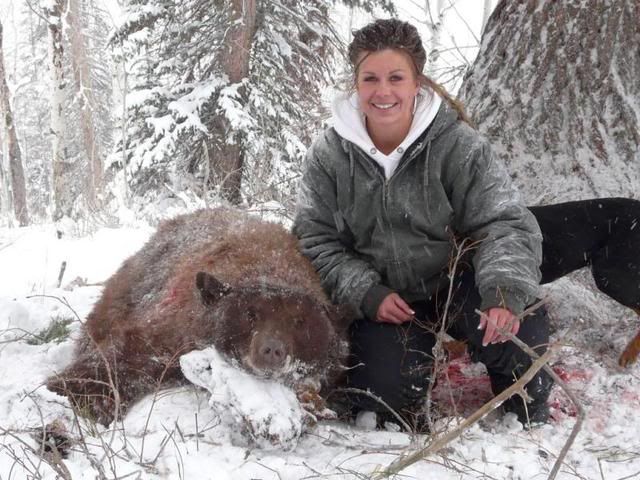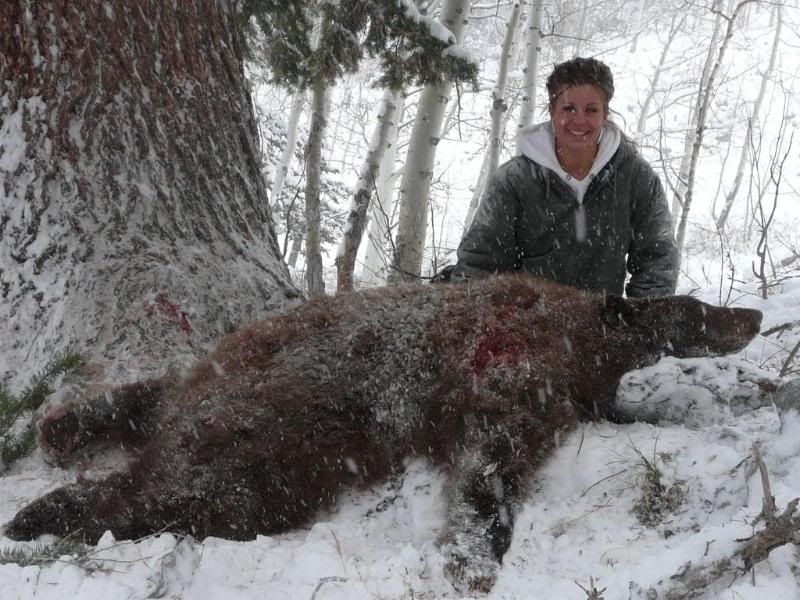 Last edited by
AntlersOutWest
on Thu May 07, 2009 8:01 am, edited 2 times in total.
---
Nice bear what area did you get it?
---
Monster

Posts: 1757
Joined: Tue Sep 23, 2008 1:15 pm
Location: Utah
awesome!!!! Congrats on the bear and such a great hunt!
SNEEKEEPETE
OIF Vet.
Sgt Petersen USMC
Colossians 1:27,28
---
2 point

Posts: 270
Joined: Sat Aug 04, 2007 7:12 am
Contact:
---
AWESOME! Glad to see that you finally filled that tag!

Great lookin' boar too! CONGRATS
---
4 point

Posts: 613
Joined: Wed Jan 02, 2008 11:02 pm
Location: SLC, Utah
AWESOME story and a great animal....l congrats!!!!
---
4 point

Posts: 739
Joined: Wed Feb 21, 2007 3:23 pm
Location: South Slopes of Utah
Thanks for the comments! Im pretty happy with him, well worth it for sure..
I got him in Kamas unit.
---
whos dogs did you use???

congrats on the success!!!!

you gonna mount him or do a rug?

9er
Watch your top knot!
---
4 point

Posts: 739
Joined: Wed Feb 21, 2007 3:23 pm
Location: South Slopes of Utah
Gary Sidoway from Kamas took me.
Hope he doesnt mind if I state his name..

I want to do a full body mount, This is probably a once in a life time bear so I might as well do it right..
Now I just have to decide on how I want to do it..

Any suggestions or picts??
---
Site Admin

Posts: 9997
Joined: Thu Oct 10, 2002 9:34 pm
Location: St. George, UT
Contact:
WOW!! I must say I'm impressed with your persistence and hard work. That is one pretty bear, congrats on a job well done by all. I love the photos, looks like a lot of work for sure but a blast in the snow.
Love the pic in the tree before you took him.
---