---
So the story behind this buck is that he got in a fight with a smaller buck (the buck that is in the picture with him) and the smaller bucks horns went through the Carson Bucks horns and stabbed him. A Game Warden that was watching this thought that the Carson buck was mortally wounded so he shot him thinking that some body was going to poach him because he was living so close to some houses outside of Carson City, Nevada. I talked to the Warden that shot the deer at the RMEF here in Reno so I know this is not a rumor that the Warden shot him. Do you think that is right that the Warden shot him? His green score is 236 and he is 33 1/2" wide. Let me know what you think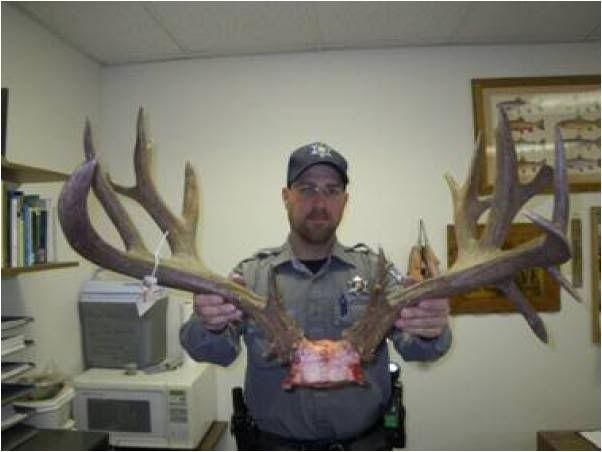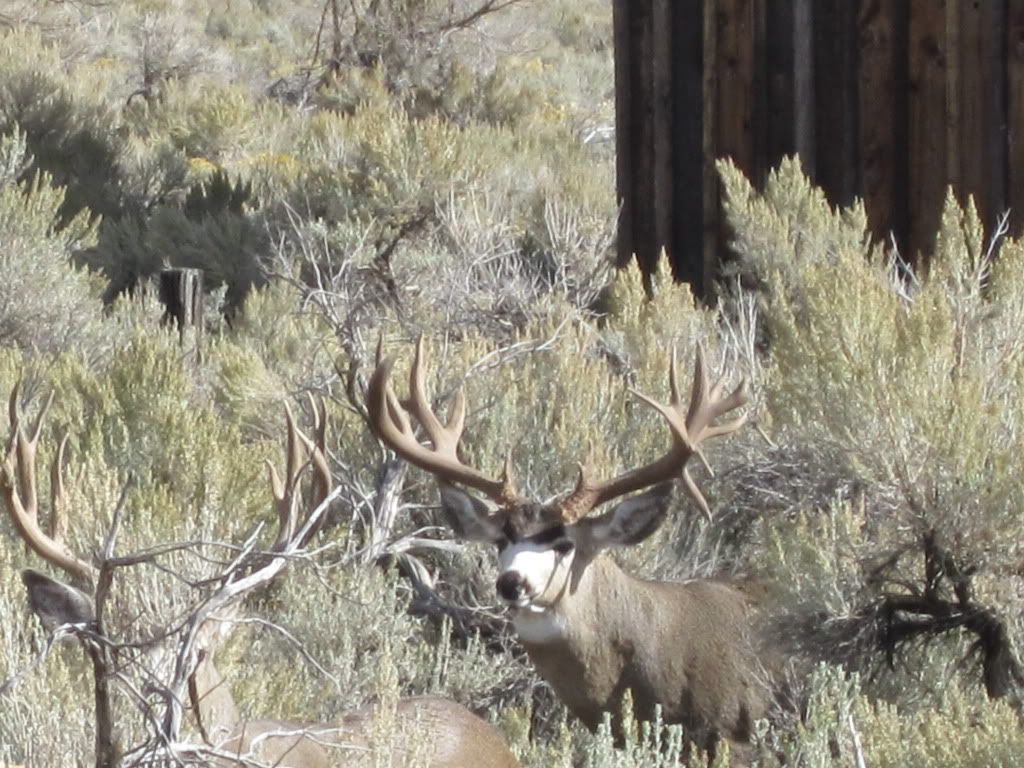 "Elk don't know how many feet a horse has!" - Bear Claw
---
Site Admin

Posts: 9997
Joined: Thu Oct 10, 2002 9:34 pm
Location: St. George, UT
Contact:
WOW!! What a pretty buck. I answered not sure, I'd need more info before I can really answer.

How did he know the buck was mortally wounded? Couldn't get up, move, etc??

I'm not against it if it really was mortally wounded and died I suppose.
---
Moderator

Posts: 2117
Joined: Sun Jul 09, 2006 1:00 am
Location: COLORADO
based soley on what was stated I say no way

So he lived close to people, he could be poached at given time regardless of being wounded or not, the possibilty of being poached has nothing to do with the warden reason for shooting him. The warden should of let mother nature take its course.

Let me ask you this, if it was a small buck that was wounded I bet you he would not of bothered to kill it.
THE LORD IS MY ROCK



---
2 point

Posts: 170
Joined: Tue Jun 01, 2010 6:30 pm
Location: Reno Nevada
From the info given I do not think they should have shot it.
The Buck Stops Here
---
I voted not sure. If the buck was clearly mortally wounded and was going to suffer then I have no problem with him humanely putting the deer down. However, that's a pretty tough call to make. Animals can sometime be very resilient. I'm not sure the whole poaching thing plays into very well. If he feared it would be poached then get the word out that the buck is being watched closely. Killing it to avoid it being killed seems a little odd to me.
---
dahlmer wrote:. Killing it to avoid it being killed seems a little odd to me.
yep
---
How did that guy make it thru the hunting season? what a toad!
"If you are not working to protect hunting, then you are working to destroy it." Fred Bear
---
i think the DOW wardens do this all too often with animals. If we were there instead what right would I have, or if I had hit one with my car? I would not be allowed to shoot it even if it would most certianly die. Instead I would be cited for driving too fast where animals are present. Mother nature should be the determiner of their fate.
---
Wonder if that excuse will work for the common man...
..
---
Not enough for me to base an opinion on. Such is the media these days. Rather than report the news they all need to put some kind of spin on it. Post the officer's report on the situation rather than a few spoken words.
It ain't the size of the gun but the placement of the bullet.
---