Okay Boys, here you go. I think I've got enough of this Internet stuff figured out so I can post you a couple of pics.
By the way haven't your wives told you that the best things in life are worth waiting for?!!!
Hee Hee
HERE'S MY STUD!!!!!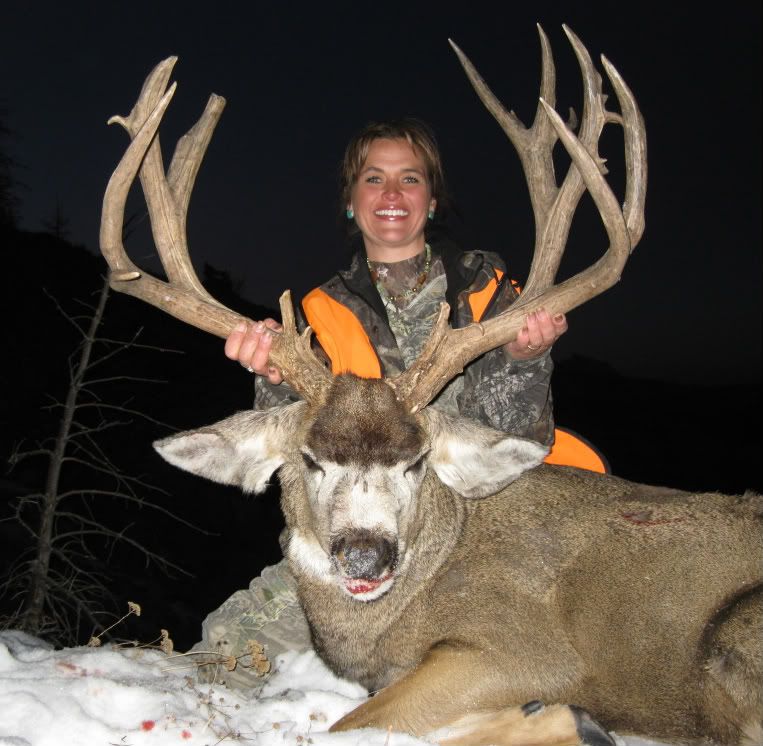 ---
Monster

Posts: 1757
Joined: Tue Sep 23, 2008 1:15 pm
Location: Utah
Wow!!!!!!!!
Awesome buck!!!! Congrats again and thanks for sharing!
SNEEKEEPETE
OIF Vet.
Sgt Petersen USMC
Colossians 1:27,28
---
Site Admin

Posts: 9996
Joined: Thu Oct 10, 2002 9:34 pm
Location: St. George, UT
Contact:
Simply AMAZING!! You deserved this caliber of animal after all the patience and hard work. Awesome photos and an amazing animal.
---
That's a bruiser, what a beast!!! Congrats to you on a great buck! JIM>
---
Nice job Ready, thats one heck of a buck, definitly worth the wait. Congradulations
---
Monster

Posts: 1138
Joined: Wed Nov 26, 2008 12:50 am
Location: Central Region, Utah
Holy BIG BUCK!, That is truely awesome.
Congratulations on the buck of a lifetime. Maybe you should move on to another species, because good luck topping that one. By the way I'm feeling a bit intimidated right now. I feel like a school boy that just got beat up by a girl.
Again congatulations on a great buck. The pictures are quality pics also. You should write a good story for one of the hunting magazines, make the cover, and get some good gear/cash. Also a story version for muely madness would be great. Way to go
"Some day I'll scout out a monster, spot him while hunting, make the stalk of a lifetime, and have dreams come true. 'Til then I'll be happy with the buck in my cross-hairs."
---
2 point

Posts: 191
Joined: Wed Nov 12, 2008 1:54 pm
Location: Kanab, UT
amazing buck Steph!! congongrats and i love all of that trash!
"to small keep drivin..."
---
Wow!!!
Congrats on an awsome animal. You might as well hang it up now. Its going to be tough to top that one.
Deadi
---
Monster

Posts: 843
Joined: Fri Sep 14, 2007 7:18 am
Location: home
what a little deer its a fawn right
J/K that is a bruiser for sure. I would love to get one even close to that
Genesis 27:3
Now take your hunting equipment, your quiver and bow, and go out into the open country and hunt some wild game for me.
---
Stephanie, congratulations!!!!
Awesome field photos too!!!
In fact, if it were a moose, I'd frame one and hang it on my wall!
........ you didn't by chance draw the sportmans moose tag did you?
---