2 point

Posts: 221
Joined: Thu Dec 22, 2005 11:08 pm
Location: South Dakota
This is my archery deer I got this year.I know he is not a muley but I thought he was neat.
After getting a little bit of a late start out the door(5:50 am) I took the 40 minute drive up to the ranch.parked and started walking.saw 5 muley does right off the bat.didn't see anything more for about 45 minutes.Worked my way up a draw and jumped a very large muley buck.watched him go over the hill and then started after spotting and stalking very slowly.Came over the rise and saw him about 1/2 mile out. Oh well the landowner doesn't really like muleys taken off the land anyway even though I had permission.So I started to work the draws back to the truck.Was working the last draw back to the truck when I saw a nice whitetail bedded down in the bottom.Worked my way in a little closer,and a little closer.Got down to about 30 feet when he stood up and presented a shot.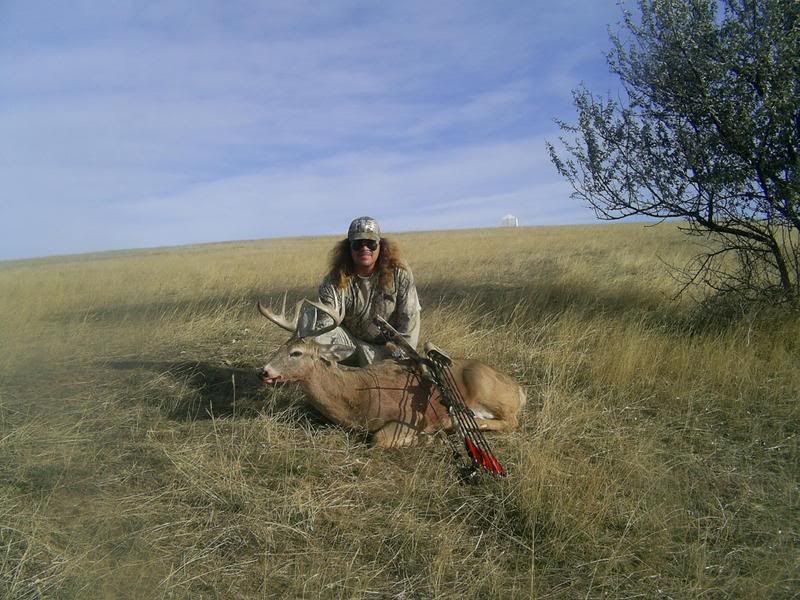 ---
---
---
Site Admin

Posts: 9997
Joined: Thu Oct 10, 2002 9:34 pm
Location: St. George, UT
Contact:
Never killed one before...but that looks BIG to me.

Nice work and thanks for the pictures/story!
---
---
Fawn

Posts: 36
Joined: Mon Dec 26, 2005 7:33 pm
Location: Nebraska
Great job, that's a nice deer. A spot and stalk whitetail is definitly something to be proud of. Congrats !!!
---
Spike

Posts: 67
Joined: Thu Oct 26, 2006 7:02 am
Location: sherbrooke,qc
good job on a beautiful buck!!
massive main beams
---
---
---
---