2 point

Posts: 221
Joined: Thu Dec 22, 2005 11:08 pm
Location: South Dakota
got up to the camper friday night and got a little sleep.was up every hour on the hour. I just couldn't sleep.made breakfast a little after 4:30 ate and my daughter and I headed out into the pasture.We got out about 3/4 of a mile and started glassing the draws.spotted a couple real nice deer and was trying to figure out a nice stalk when all of a sudden it sounded like a war zone.our little honey hole had been overrun by about 20 people. >:( >:(The deer scattered but not a one dropped,wich made me a little happy, but I could see she was dissappointed.So we headed back even farther where we found a group of 4 small bucks.I told her it was up to her if she wanted one or wanted to wait to see if she could do better.She decided to take one just to get her day overwith and with this being her first muley buck she said she didn't care how big it was.So I told her to pick the one she wanted. She picked one out and dropped him at about 180 yards.Maybe next year she will get on a bigger one or who knows she might just want a spike!!wouldn't matter to me either way.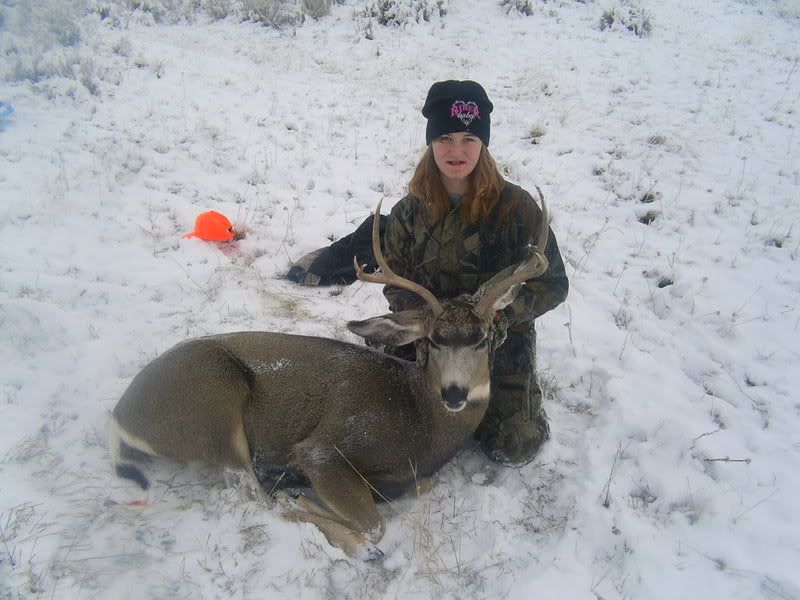 This deer was with the four we came apon. He went up over the hill to where a friend and his boys were set up and his son got his first deer ever.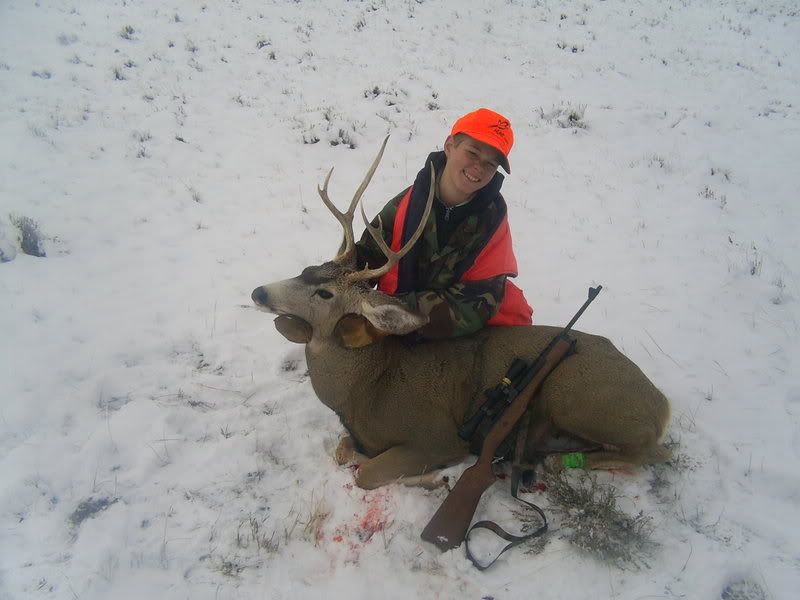 Well even looks like ole RICFIREFIGHTER had a little luck the very next morning.As you can see in the picks not muck cover.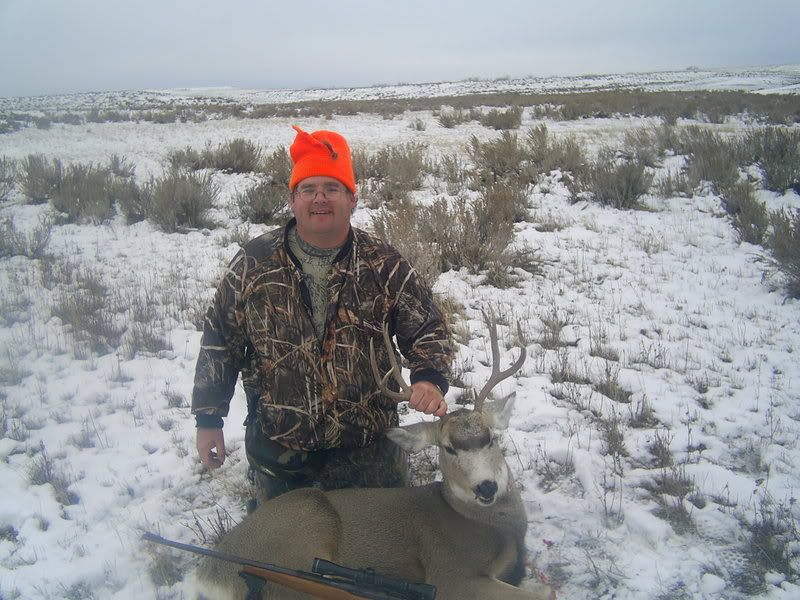 Now with 2 weeks and no one to guide around it's my turn.And I'm going to be hunting hard.got 6 tags to fill 4 doe tags,one any whitetail tag and one any deer tag.the last 2 will hopefully go on bucks!!
---
Site Admin

Posts: 9997
Joined: Thu Oct 10, 2002 9:34 pm
Location: St. George, UT
Contact:
Nice job and thanks for sharing, looks like some great success on some 1st hunts.
Good luck with your tags also, looks a little chilly.
---
---
---
Moderator

Posts: 1669
Joined: Mon Jul 04, 2005 8:42 am
These are the best of times! Congrats!
mnmt
---
---
Spike

Posts: 121
Joined: Sun Oct 22, 2006 8:12 pm
There aint nothing wrong with those bucks. They sure beat mine, no buck at all. We all want wall hangers, but sometimes it just don't work out that way.......................Eastern NM hunter
---
---
---
---